Direct Deposit Instructions
Whoever originates your direct deposit – your employer, stock issuer, the IRS, etc. – will need the nine-digit Sandia Area routing number and the account number for your account receiving the deposit. If you have paper checks for a Sandia Area checking account, you may use the routing number and 10-digit number that follow it on your check, as shown.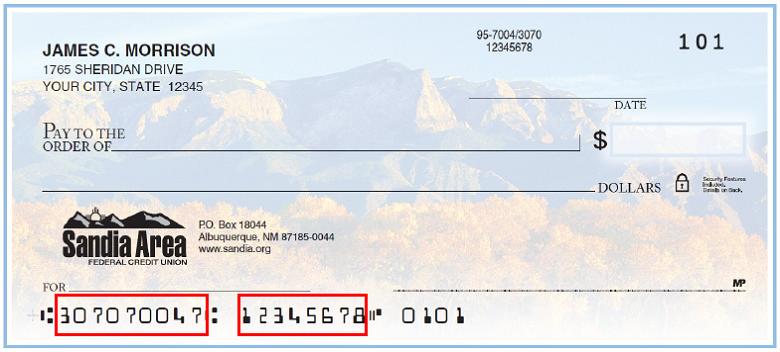 In the example above, the routing number is 307070047 (on the left) and the account number is 12345678 (on the right). Set-up using the information on your paper check is different from set-up if you don't have a paper check for the account or if you are setting up direct deposit to a savings account.
Set up your deposit for a Checking Account
Look at the numbers across the bottom of your check. The first string of nine digits – 307070047 – is Sandia Area's routing number. The next string of 10 digits printed on your check indicates your checking account. (The last number string – 0101 in the image above – is the number of that individual paper check and should not be used.)
Set up your deposit for a Savings Account
To set up your direct deposit to go into a savings account, use the same routing number – 307070047 – then your savings account number. That number could contain as many as six digits. Indicate that the deposit is going into a savings account if possible.
Use our Switch Guide
Use our EZ Switch Guide to make moving your accounts to Sandia Area easier.
---
If you receive Social Security benefits, you can set up Direct Deposit of your checks into your new Sandia Area account by visiting www.ssa.gov. To download the official government form for Direct Deposit for all other government benefits, go to www.treasury.gov.
Go to main navigation