Sandia Area's newsletter, Sandscript Quarterly, has financial information you need to stay up to date. Inside each issue, you'll find helpful articles, promotional events, timely product information, and helpful financial tips. Select the most current newsletter or one of our recent issues below.
---
First Quarter 2017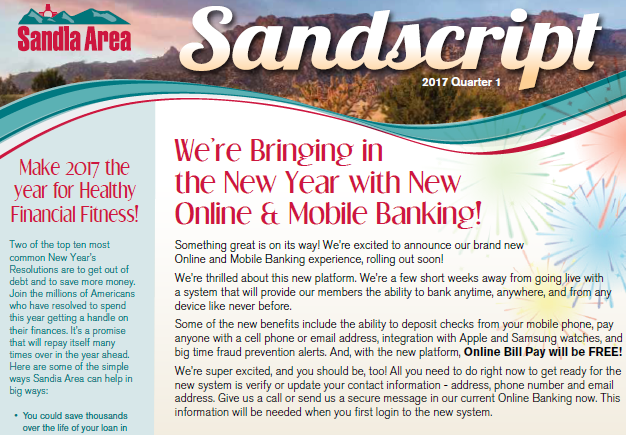 Highlights
New Online & Mobile Banking coming soon
Two great seminars coming up: Credit Reporting and Home Buying
Maximizing your retirement with an IRA
Finding a better way to pay for the things in life that matter.
Fourth Quarter 2016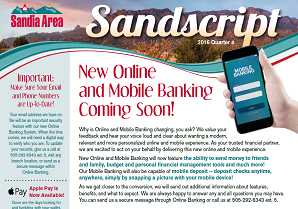 Highlights
New Online & Mobile Banking coming soon
60th Anniversary celebrations at our branches
Two great seminars coming up: Cybersecurity and Social Security
Holiday food and toy drive
The gift that never gets returned
Top four reasons to buy a home during the holidays
Third Quarter 2016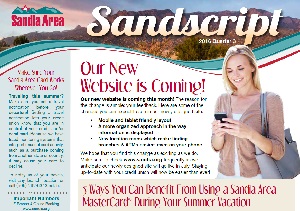 Highlights
New website: what you need to know
5 benefits of a Sandia Area MasterCard for summer travel
Traveling? Set travel alerts
Big summer fun means big summer toys
Free home buying seminar
How to avoid getting burned by your checking account
Second Quarter 2016
Highlights
Sandia Area's seventh branch is now open
Helpful summer tips
Escape from rising bank fees
Summer projects demand red hot financing
Free document shredding with a food donation
Summer is more fun with a Rewards Mastercard from Sandia Area
First Quarter 2016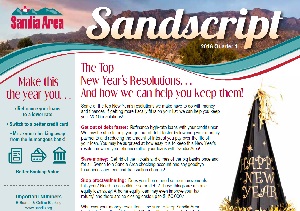 Highlights
The top New Year's Resolutions and how you can keep them
Three informative (and free) seminars to kick-off 2016
Less interest and lower fees make a better looking 2016
New year, new password.
How to make more money every month with your checking account
Fourth Quarter 2015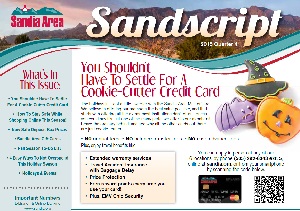 Highlights
Stop settling for a cookie-cutter credit card
How to stay safe while shopping this season
Fall season to-do list
Four easy ways to not overspend this holiday season
Gift cards: the perfect gift for the hard-to-please
New prices for safe deposit boxes
Go to main navigation