Sandia Area Named Best-In-State Credit Union
Sandia Area Named Best-In-State Credit Union
In The News
Sandia Area Federal Credit Union was recently named the top credit union in New Mexico in 2023 by Forbes Magazine.
"This is such an honor and really highlights that we're fulfilling our mission," said Kevin Todd, Sandia Area's CEO. "We're all about providing exceptional convenience and value to our members, and I'm humbled and so very grateful to our community for their recognition."
Sandia Area was awarded this title based on a national independent survey by Forbes in partnership with market research firm Statista. Community reviews were also considered.
Approximately 31,000 U.S. residents were asked to rate credit unions and banks in which they have or previously had checking and saving accounts. Residents were asked to evaluate those institutions on their customer service, quality of financial advice representatives, transparency about fees, branch location services and the level of trust in each company. As credit unions continue to rise as a preferred way of banking, the America's Best-In-State Credit Unions 2023 title supports the efforts of those providing excellent financial services.
This is not Sandia Area's first appearance on the prestigious list but it is the first time the $1.1 billion credit union has taken the top spot with a #1 ranking in New Mexico. See full results here: https://www.forbes.com/lists/best-in-state-credit-unions/.
Sandia Area is committed to helping members reach their financial goals—the sole mission of the credit union, according to Todd. People, not profit, means earnings are returned to members in the form of lower loan rates, fewer fees, higher dividends and greater accessibility.
"We have an important mission, and I want to recognize the amazing work our employees do for our members. Every team member has a hand in the successes highlighted in this survey and that is being recognized and reflected in our members' opinions about us," said Todd. "We greatly appreciate each of our employees and members and look forward to continuing to provide the best banking in New Mexico and beyond.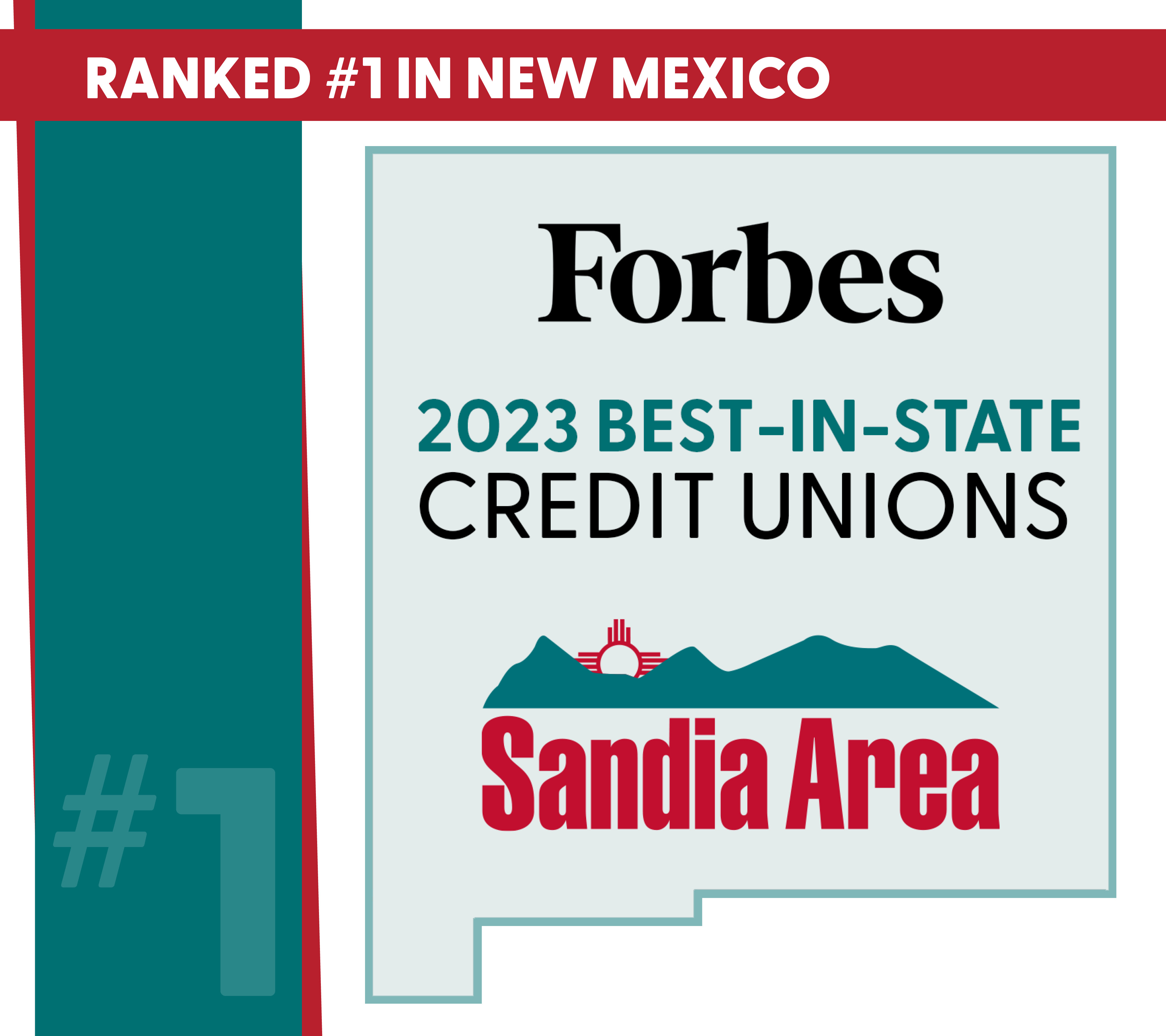 « Return to "Sandia Area Blog"
Go to main navigation